Review: The Bayleaf Hotel in Intramuros
Last December 6, 2013, our company had annual planning. We wanted to conduct it within Metro Manila, but the ambiance should not feel like you're in the busy metropolis. After searching and thinking, we end up with
The Bayleaf Hotel
in Intramuros.
Morning View from the Conference Room
For Php 1,250.00 per person, we had a conference room (complete with a television, marker, whiteboard, etc.) from 8:00am to 5:00pm, AM and PM snacks of our choice, and breakfast buffet at
9 Spoons
. Not bad of a deal, right?
Morning Snacks (the chips were delish)
The conference room was enough for the size of the team, and it was cold too (be sure to bring a jacket), we did not feel like we're in the metro since the view is that of the golf course and lots of trees. Both snacks tasted great, and the waiters were really attentive and ready for our needs. The buffet food was good (nothing fancy) though I really loved the dessert (too bad I was so full already). If you go to the Sky Deck (stairs are going up from 9 Spoons), you will have a 360-degree view of Manila! From the buildings of Manila to the sight of Manila Bay, it was great! I would definitely be coming back and wait for the sunset next time!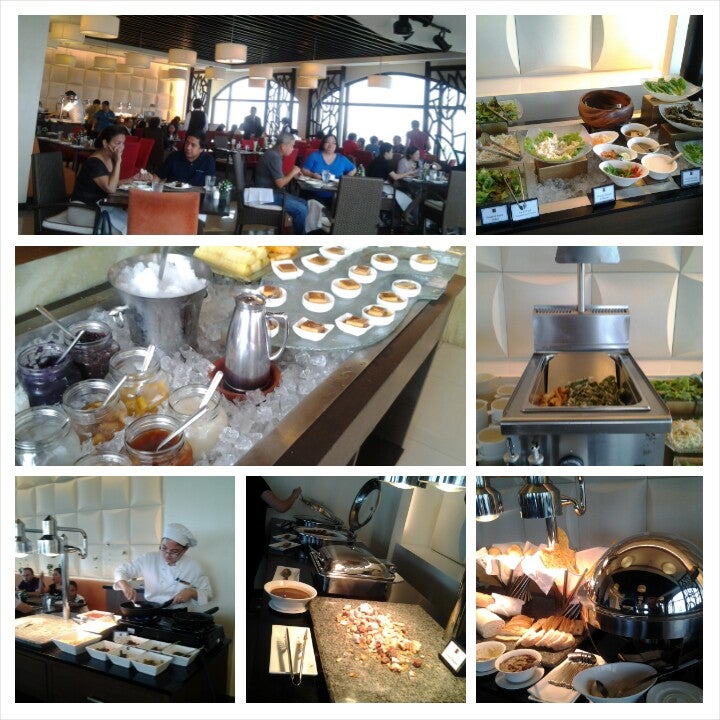 Different Areas of the Buffet
Manila in Panorama
The only comment I have is the slow turn around in feedback in the reservation of rooms. Also, I remember being transferred 4 times before talking to the right person when I inquired. I called Tuesday morning to ask and received feedback Tuesday evening. It was slow compared to the other hotels I've contacted previously.
But, overall, it was a great experience! I'll definitely be coming back.