Less than half-day Tagaytay Trip
Yes, we were in Tagaytay for less than half of a day.
Last Sunday (January 19),
+Jomar
, Mama
+Chelle
, and I gave a tour to
+Amit Chopra
to the cold and breezy Tagaytay City.
We left Manila around 6:30 AM and have found ourselves on top of the People's Park in the Sky 2 hours later. It was a cloudy day, and intense cold winds greeted us on top of the park. The view of Laguna and of course, the Taal Volcano is gloomy.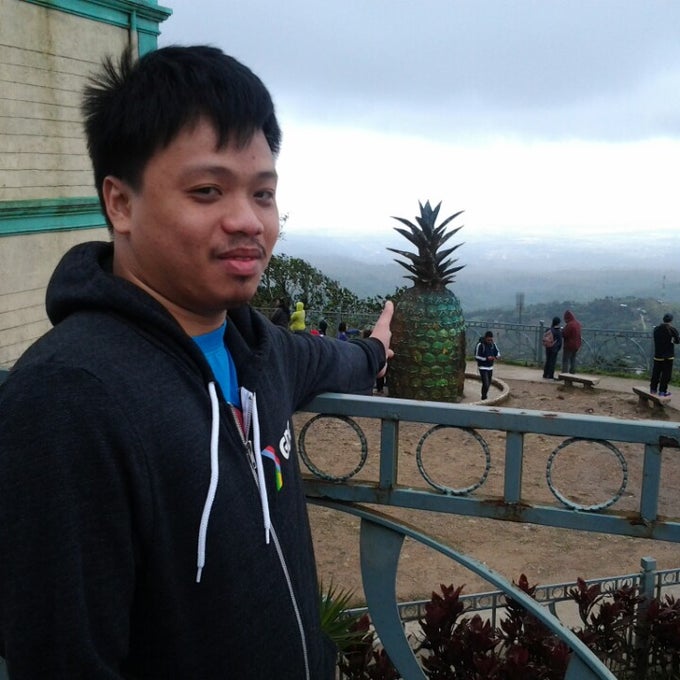 The boyfriend is holding the giant pineapple. :)
After a few minutes taking photos, we decided to ask people holding "Boat for Rent" sign, how much it would cost much to our surprise the Manong said it costs Php 4,500.00 (that's expensive, even for the big boat!). Amit said that he does not want to get seasick because the strong wind might rock the boat on its way to Taal volcano even if he was looking forward to a donkey ride. So instead of riding the boat, we decided to enjoy warm cookies in Starbucks. After taking photos of the view, we decided it's time to go back to Manila since the sky is gloomy and it might rain. We stopped by Rowena's to buy buko tart and silvanas.
Dark Clouds at 10 AM!
During the drive back to Manila, I was sleeping most of the way and woke up when we arrived at the front door of the National Museum.