Day 1 in Bicol: The Legazpi-Daraga Tour
At last! After more than two months of staying in the city, I found myself in a new place again! I could not be happier when Jerome Locson invited Jomar Tigcal, Wayne Manuel, and I to be speakers for the Bicol Youth for Technology Exposure (BYTE) 2013.
It was my first time to visit the Bicol Region, and I am ecstatic to be there! The event was on the 19th of October 2013. Instead of flying to Naga, Jomar and I took the flight via Legazpi to see the beauty of Mt. Mayon and explore what time would permit in Legazpi, Albay.
Mt. Mayon seen in the Legazpi Airport
Pili Nut Hills
Our flight arrived Legazpi at 6:05 in the morning (15 minutes earlier) via Cebu Pacific. The night before I was still searching for places to visit, and thankfully I stumble upon this
website
. I like the post about the
Pili Nuts Hills
and was so psyched up about possibly seeing it while on the plane. At around 5:50, I woke up when the pilot announced that we're near Legazpi. I was also sad because I forgot to ask for a window seat. Grr! Thankfully, there's a vacant window seat, so Jomar and I immediately transferred there. I had a view of the Pili Nuts Hills, but I could not get a decent shot of it. Regardless, it was mesmerizing.
Mt. Mayon while the plane is landing


Lignon Hill
Upon getting our backpacks,
+Jomar Tigcal
and I went outside the airport and rode a tricycle going to the base of Lignon Hill. It is said to be the best place to see Mt. Mayon, and I could not agree more! We started walking up the hill at around 6:30 AM and was at the viewing area past 7:00 in the morning. It was a steep and long uphill climb! Thankfully, it was still early, so the heat of the sun is not that bad yet plus the shades of the trees helped. We took around 3-4 stops because I need to catch my breath. I also took the time to capture the city of Legazpi.
This photo shows the beginning of a long uphill walk at Lignon Hill.
Legazpi City from Lignon Hill
When we reached the summit of Lignon Hill, and the clouds started to clear out. This view of Mt. Mayon awaits us.
The Summit of Lignon Hill
Rewarding view of the Perfect Cone of Mt. Mayon
The stores up in Lignon Hill were closed when we got there. They started opening at around 8:00 in the morning and we were able to buy bottled water and chilli key chains! We started going down the hill at approximately 8:30 and enjoyed some fresh coconut.
Here I am enjoying the fresh buko and some Pringles.


Cagsawa Ruins
By the time we arrived in Cagsawa, it was already scorching hot. It was 10 in the morning. I like ruins because it tells so much about the place.
+Jomar Tigcal
even gave me a history lesson about the time when the Dutch were in the Philippines as well! Though, I don't like how touristy the place is with people offering to take your photo among other things. It also provides a view of Mayon!
What was left of Cagsawa Church is the bell tower.
On the background is Mt. Mayon covered in clouds.
Panoramic View of Mayon from Cagsawa


Daraga Church (Our Lady of the Gate Parish)
It is on top of the Sta. Maria Hill and offers a view of Mt. Mayon as well. Jomar and I went inside to say our prayer, and it was amazing how calm the church was. I can't help but smile remembering how peaceful I felt during that time.
This photo is of Daraga Church with Mt. Mayon in the background covered with clouds.
Daraga Church


St. Gregory Church
We took a jeep from Daraga Church to the city center. We went down St. Gregory Church, another old church in Albay. It was quiet and peaceful. We cooled down a little bit inside before walking to where we would have our lunch.
Food! Okay. We had breakfast in Metro Manila at around 3:30 AM and at approximately 11:30 AM we were starving! We had no idea on where to eat but thankfully
+Foursquare
to the rescue! I searched for food near where we were standing and viola! One of the suggestions is the Red Continent. I saw that one of my high school batchmates already ate here and even left a tip. So there we are enjoying our lunch of Bicol Express, Pinangat, and Tapa Rice. We also had Sabayon (Chili Ice Cream). Everything is fine - nothing stood out except for the ice cream. Talk about sweetness in your tongue and once you start swallowing it burns in your throat.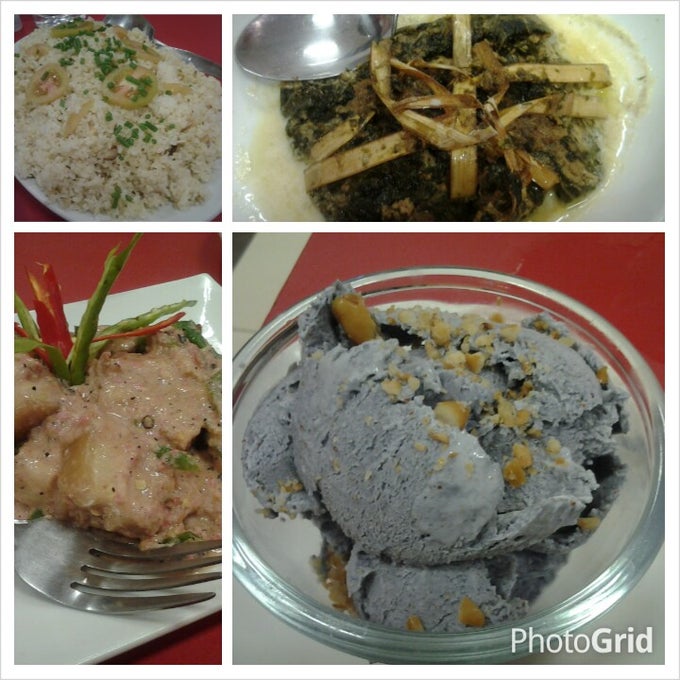 After lunch, we rode a tricycle that would take us to the Central Terminal. We informed the driver that we would be riding an FX going to Naga City.
That concludes our half-day adventure in Albay. Maybe the title of this post should have been Day 0.5 in Bicol: The Legazpi-Daraga Tour. Oh well! Watch out for my next post about the peaceful City of Naga.