Cagayan de Oro: Food, Friends, and Events
It was our first time in Cagayan de Oro (CDO) over the weekend.
+Jomar Tigcal
and I were speakers during the
+GDG Cagayan de Oro
6th Monthsary Meetup
.
We were at NAIA Terminal 3 at around 5:30 AM (early for our 6:55 AM flight). Surprisingly, our flight departed on time and arrived CDO on time. By 8:20 AM we found ourselves in the one-month young Laguindingan International Airport. By the time we exited the airport, we had seen our former colleague
+Paul Michael Labis
who is now home-based in CDO.
Divine Mercy Shrine
Our first stop was the Divine Mercy Christ Shrine in El Salvador City, Misamis Oriental. It's one of the cities and municipalities between CDO City and the airport. Paul dropped Jomar and me off at the bottom of the Shrine, and we climbed the many steps of stairs (I should have counted it!). Oh, and at the entrance, they'll lend girls a skirt that you could wear while inside the shrine compound.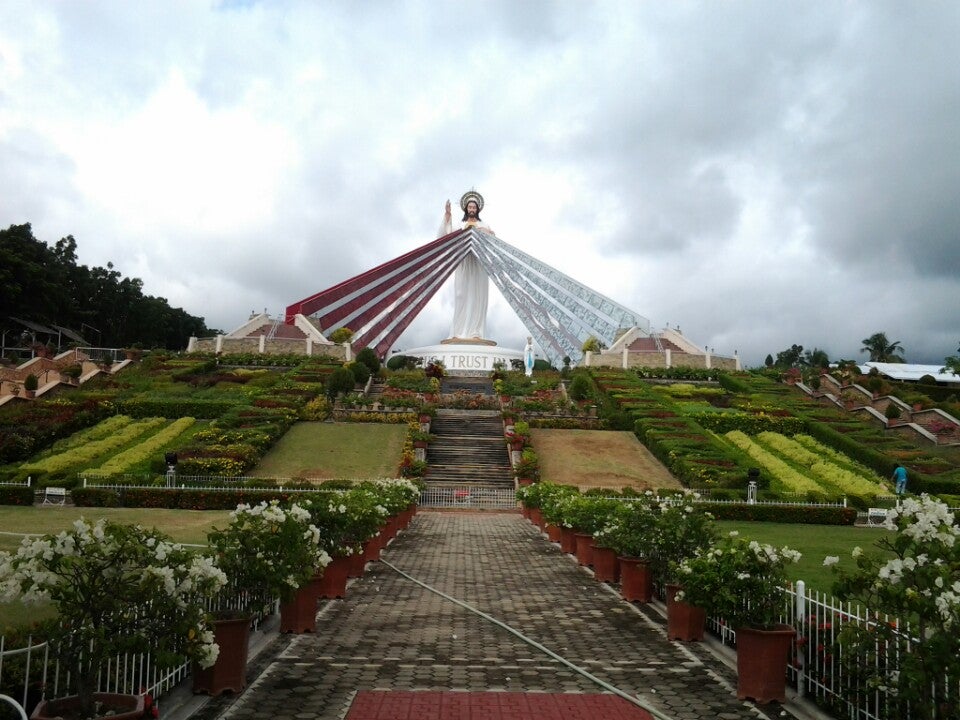 The statue was huge!
We said our prayers and thanksgiving before heading up behind this amazingly massive statue of Jesus. We also read about the different miracles that happened on this hill - like the dancing sun. We also saw the miracle water from a well that is said to cure illness. We didn't get a chance to go near the well because it started to drizzle. Thus, we went back to Paul's car and headed to the restaurant where we'll have brunch.
They serve good food at a reasonable price plus it's by the sea.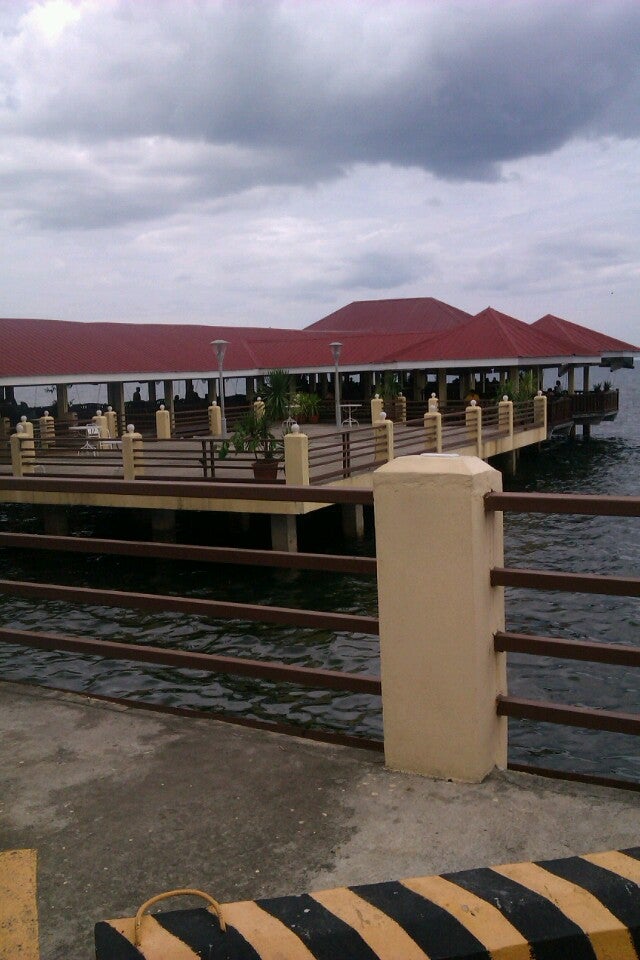 Cold sea breeze

We ordered baked scallops and calamari, seafood noodles, and aligue rice. It was delicious.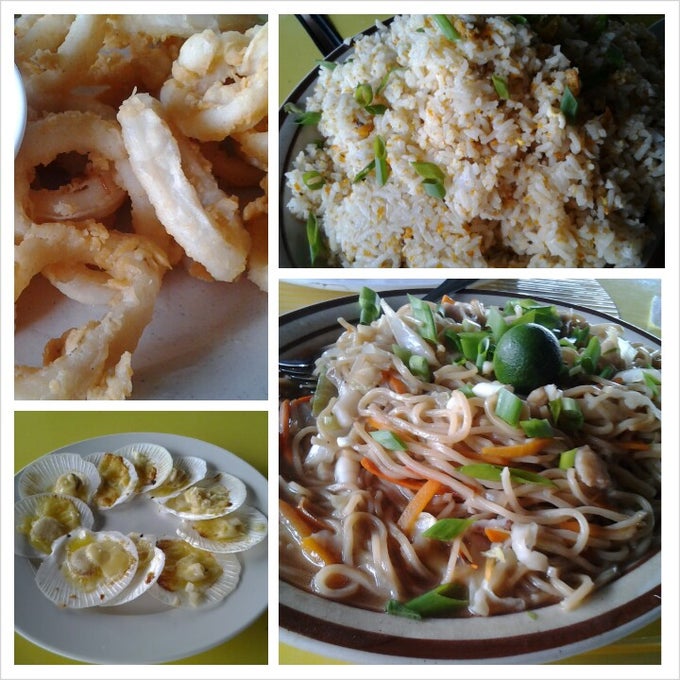 After eating and a lot of stories, Paul dropped us off at Tune Hotel. I didn't make any reservations thinking that it will be empty. Much to my surprise, only the third floor of the eleven levels are open that weekend. Luckily the receptionist helped us find the nearest hotel. They even called the hotel to reserve a room for us. We hailed a cab off to the Mallberry Suites Business Hotel. We got a deluxe room for Php 2,400.00 (inclusive of breakfast for 2). It was a decent place to rest our head for the night. The folks at the reception were not smiling at all (except for one girl). The room didn't have towels initially, and we had to ask for towels. After leaving our stuff, we walked going to MUST (Mindanao University of Science & Technology).
It was a full house! When we arrived, Mr. Romar was discussing the Yii Framework while I tried to prepare for my Google Apps for Education talk. I had fun showing the kids (college students from different schools in CDO) the various apps that are part of Google Apps. After my presentation, Jomar shared about Android design then HTML5 talk by
+Josan Astrid Dometita
.
6th Monthsary Meetup of GDG CDO
After the meetup, Josan and the community leaders in CDO responsible for Software Freedom Day met to plan for DevFest CDO. We joined them and chip in on whatever details we can. Then, we had dinner with Paul and Josan.
Thai Me Up
I have such a geeky boyfriend that said he thought it was "Thai Me App." Geeky. Since we had lunch over the sea, now, we were having dinner under the Nipa Hut while seating on the floor. It was a charming restaurant. One of the highlights of the meal is the drink called Love Potion (it was watermelon and apple(?) - we can't be sure).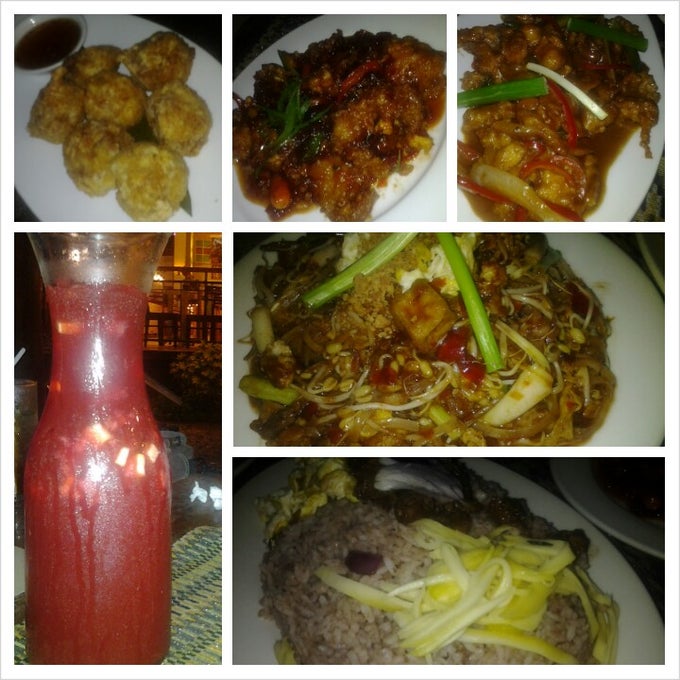 Thai Me Up!
After dinner, we purchased pasalubong! I wished I hoarded more pastel because the one dozen I bought for our house disappeared in under an hour! I also brought some for my office mates.
CSI. Sleep. Tomato Pesto and Mozzarella.
After the long day, Jomar and I returned to Mallberry Suites. We watched two episodes of CSI then slept. I was scared because I felt like we weren't alone in the room - I said my prayers and decided to rest. At around 4:30 AM, the power was gone. After 10 mins when the power in our room did not turn back on - I thought the hotel did not have a generator. Much to our surprise, there were lights in the hallway. It seems the key card in our room is not working, and we had to insert it again before the electricity in our room came back.

After packing our things, Jomar and I checked out then waited for Josan to fetch us. Josan's mom and auntie dropped us off at the airport. The new airport has Kenny Rogers and Seattle's Best in the pre-departure area. Jomar and I had breakfast in Seattle's Best. I was so happy when I discovered that my fave panini (sandwich) from Kenny Rogers (which was phased out) is now available in Seattle's Best. Tomato Pesto Mozzarella!

It was such a short, sweet stay in CDO. I hope to be back soon.