My Ozamiz City Adventure
New city. New people. More universities going Google!
Day 1: LSU Gone Google
Last May 24, 2013 (Friday), Jomar and I took the
only
flight going to Ozamiz City (from Manila) for the
La Salle University (LSU)
Google Apps for Education Training. After the initial surprise of the checked-in luggage just being handed out by airport employees, we went out and looked for Ms. Leslyn of LSU. We saw her with the other professors and we headed straight to the university. Being an alumna of
De La Salle University in Taft Avenue, Manila
, I am very happy to be sharing to the faculty of LSU what I know about Google Apps. We started the training a little after 9:00 AM and the teaching staff representatives from each colleges and department was very eager to learn. They asked questions and were really looking forward to maximizing Google Apps for the coming school year.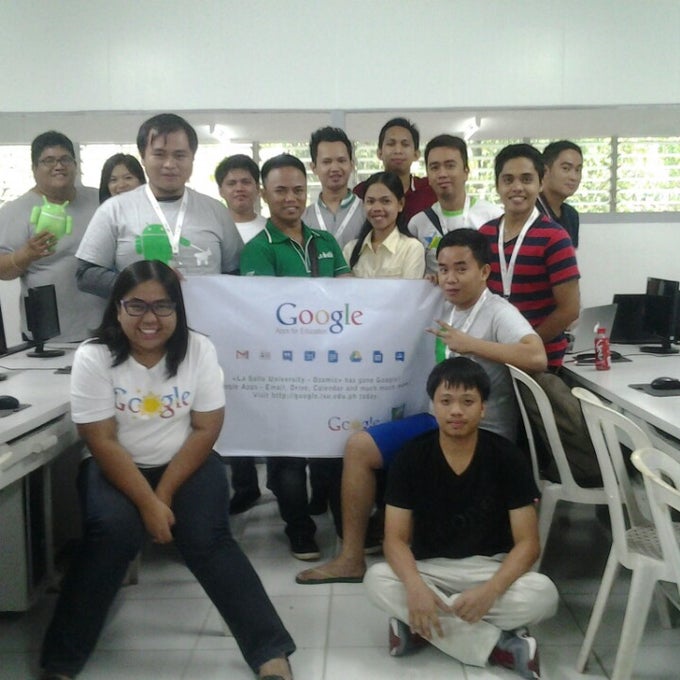 Day 1 Class
Royal Garden Hotel and Hukad by Golden Cowrie
At around lunch time, we checked in at
Royal Garden Hotel
which was a newly renovated hotel right in the middle of the relatively small city. According to Ms. Leslyn and Sir Harold, it's the best reasonably priced hotel within the city. At the ground floor of the hotel was the new restaurant
Hukad by Golden Cowrie
where we had lunch. Jomar and I had the vegetable Bicol Express (the coconut and spicy pepper tasted great together), the tuna sticks (nothing really special), and baked scallops (high in cholesterol yet it melts in your mouth).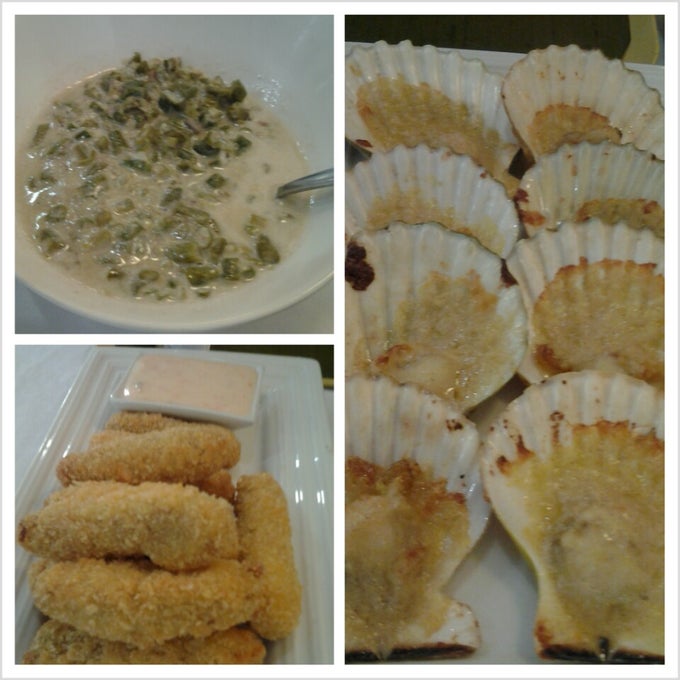 Hukad by Golden Cowrie: Bicol Express, Tuna Sticks, and Baked Scallops
Mooon Cafe
After the satisfying meal, we went back for the second half of the training. The professors had a productive time learning about Google Sites and preparing one for their respective college or department or class. I was impress with their output. After giving away the Android plushie and ending the training for the day, we went to the Immaculate Concepcion Cathedral to pray then walked to Mooon Cafe for dinner.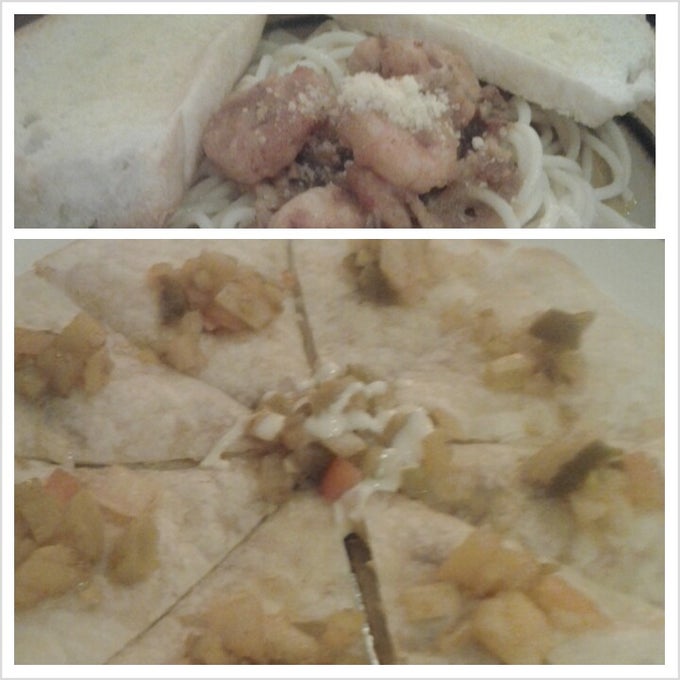 Mooon Cafe: Spaghetti ala Gambas and Quesedilla Vera Cruz
Coffee Lounge, Royal Garden Hotel
After which, we had Red Velvet Cake and Sinful Chocolate at the Coffee Lounge of the Royal Garden Hotel.
Day 2: LSU Gone Google
The following morning we walked to the 24-hour Jollibee to have breakfast and went straight to LSU. The training is now focus on non-teaching staff and they were as fun as the first batch! Seriously, this school was amazing.
Day 2 Class
Big J Grill House
Ms. Leslyn and Sir Harold treated Jomar and I to Big J Grill House for lunch which was good.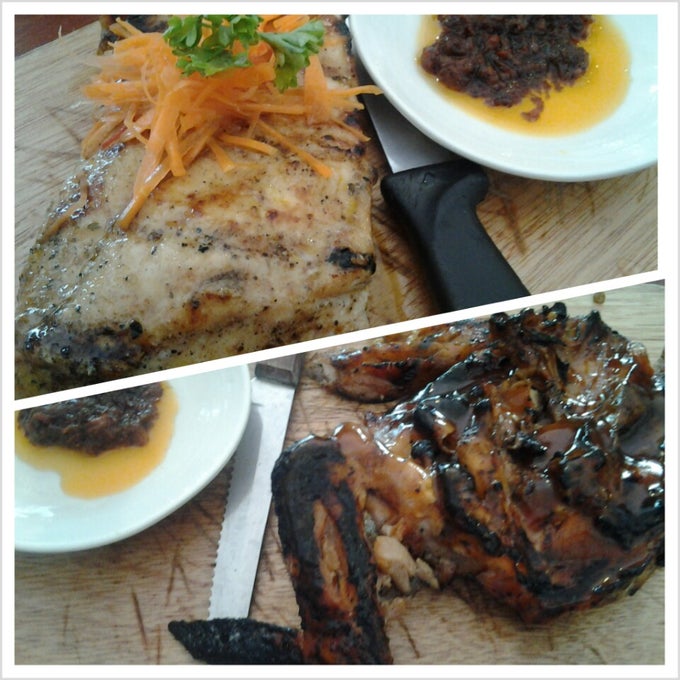 Big J Grill House: Chicken and Tuna
The afternoon training session was fun as well. After the training, Jerome, Ms. Leslyn, Sir Harold, Jomar, and I had dinner in Hukad.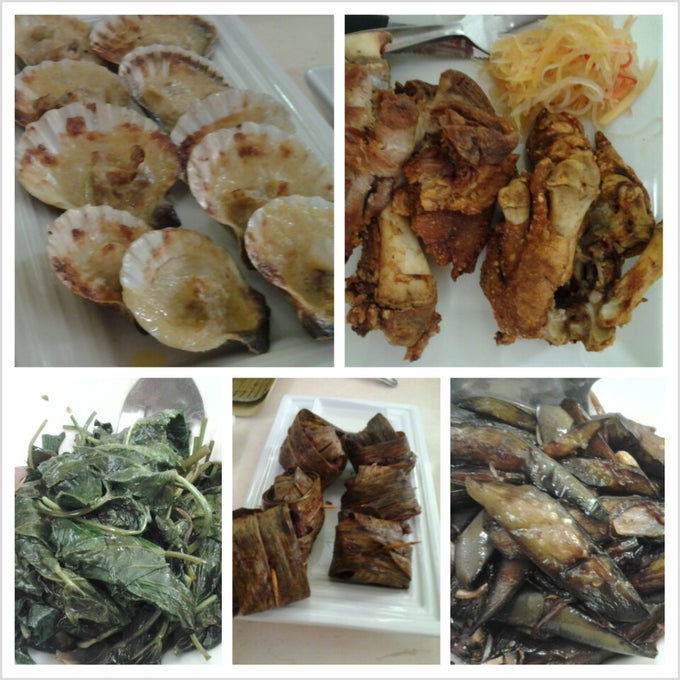 Baked Scallops, Crispy Pata, Adobong Kangkong, Chicken Pandan, Adobong Talong
We also had desserts in the Coffee Lounge of the Royal Gardens Hotel.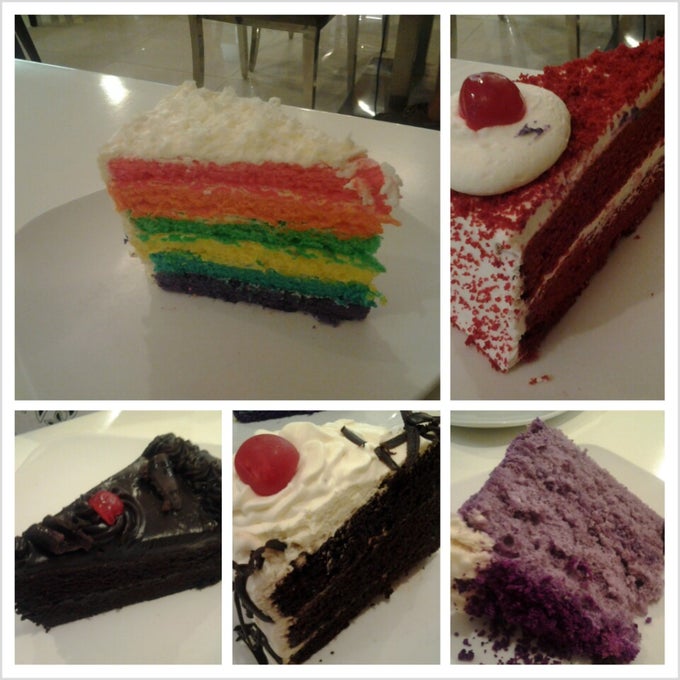 Rainbow Cake, Red Velvet Cake, Sinful Chocolate, Black Forest, Ube Cake
Day 3: Thank you Ozamiz!
By Sunday, the LSU service picked us up and we had our Jollibee take out and rushed to the airport. The airport was shocking. The usual airport security of big machines is not available so security guards manually open and search your bag. Also, if you're riding Cebu Pacific the check-in counter is on a smaller building on the right of the main building. After checking in, you have to return to the main building for second round of security before waiting in the only boarding gate. Whew! We ate our breakfast while waiting for the plane to arrive.
I had the most amazing time in Ozamiz. I appreciate the slower pace as compared to the hustle-bustle of both Manila and Cebu. I was also reminded on why I fell in love with training - I love meeting and discussing with great people. I met so many wonderful teachers from LSU. Thanks Ozamiz! Until next time...