Bontoc-Baguio Adventure
Summary
Last January 26,
GDG Halsema
had their
first meet-up
. Jomar and I went up to Bontoc to be their speakers. Jomar talked about GDG and
GDG Philippines
while I discussed and had a demo of Google Apps particularly with an emphasis on how teachers and students could maximize it.
But before the meet-up, Jomar and I rode a 12-hour bus ride going to Bontoc through Cable Tours. Some tips, buy or reserve your tickets ahead of time. I purchased our tickets the day before our trip, and we were already seated at the back. Come Friday, some people wanted to buy more tickets but they couldn't. I tried reserving tickets through phone but they didn't reply, so I decided to go to the terminal located inside a compound. To go there, you have to walk inside the compound between Shakey's and the Trinity University of Asia along E. Rodriguez Avenue. The bus left 9:00 PM, and we had three to four stopovers.
A little after 6 AM, Jomar and I woke up just time to see the Banaue Rice Terraces.
Banaue Rice Terraces
(Source Blog)
It was always my dream to see it! Remember those grade school years when it is in your history book. I can't believe I saw it. After our last stopover in Mt. Polis (which was 14 degrees Celsius) and amazing mountainside views, we arrived at Bontoc.
Panorama Shot - Eye Level with the Clouds
We paid for a tricycle ride for PHP 15.00 to bring us to Mountain Province State Polytechnic College.
After the successful event, we went straight to the GL Lizardo Bus Station for our 6-hour bus ride going to Baguio where we spent the night. We stayed at Hotel Elizabeth which is pretty sweet. I had such a restful sleep!
By Sunday, I feel like a tour guide. Since it was Jomar's first time in Baguio, we went to
tourist spots
in Baguio like Good Shepherd Convent
(to buy pasalubong)
, Mine's View Park
(I just had to take his picture with the mountain ranges),
The Mansion, Wright Park, Burnham Park, and Baguio Museum
(it was also my first time here).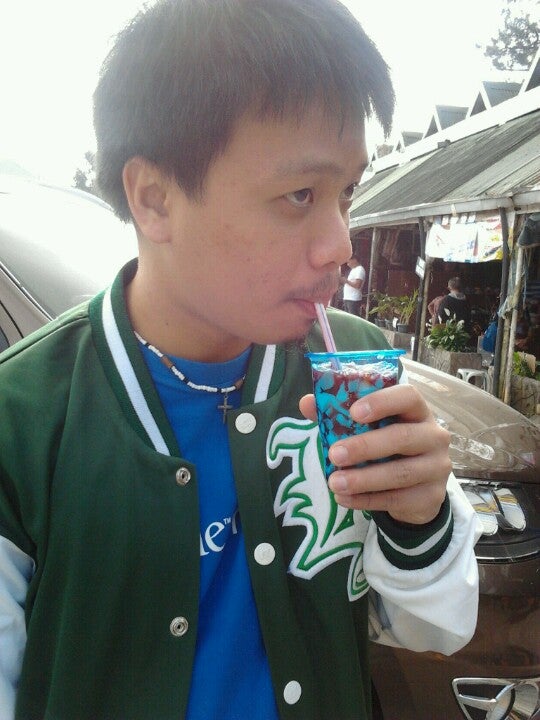 The boyfriend enjoying his strawberry taho
We had lunch in O-Mai-Khan which was terrific! We hurried back to the hotel to check out and went to Victory Liner. There was a long line, but we managed to ride the 2:10 PM bus back to Manila. We even watched three movies while inside the bus,
The Wanted, The Proposal,
and
Deja Vu
. We arrived in Manila at around 9 PM. Overall, it was an amazing and fun trip.
Itinerary
Here was our agenda during the trip:
Friday
20:00 Be sure you're at the Cable Tours bus station
Saturday
08:30 Arrived in Bontoc
09:00-13:00 GDG Halsema First Meet-Up
13:00-14:30 Explore Bontoc
14:30-20:30 Travel to Baguio (14:30 is the last trip going to Baguio by Lizardo GL)
21:00 Late Check-In at Hotel Elizabeth
Sunday
0700-0800 Breakfast in Hotel Elizabeth
0800-1130 Tour of Baguio (Good Shepperd Convent, Mine's View Park, The Mansion, Wright Park, Burnham Park, and Bagui Museum)
1130-1230 Lunch in O-Mai-Khan
1300 Victory Liner
1410-2100 Travel to Manila
Places in the Map
Feel free to zoom in and out of this Google Maps for our adventure.
Expenses (Money Matters)
For comments, questions, and suggestions please leave a comment below or contact me.